Who Was Carolus Clusius?
We don't know exactly when Carolus Clusius saw his first tulip, but we know he was struck immediately by the flower's "charming variety."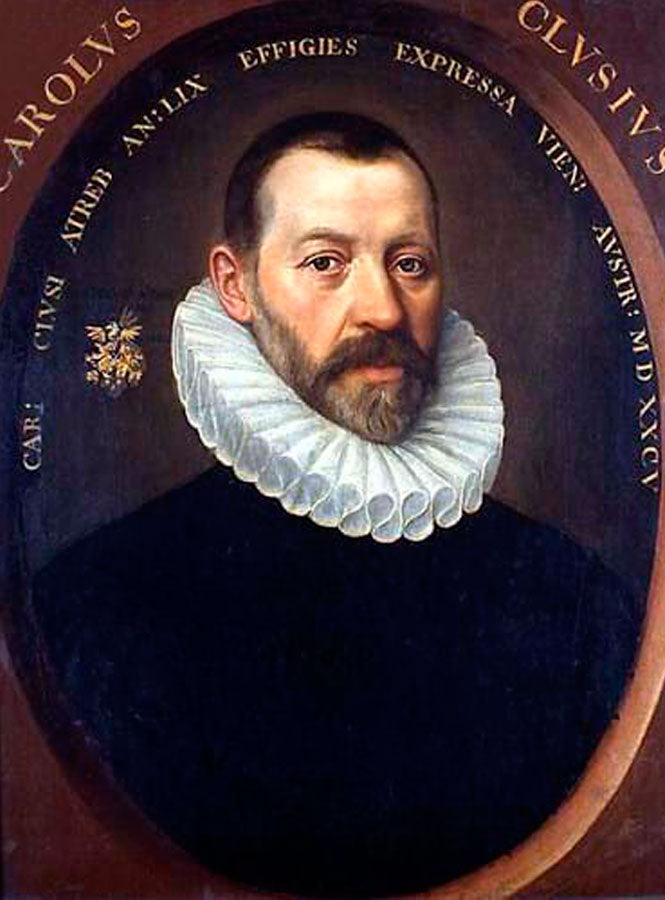 Clusius was born Charles De L'Ecluse in Arras France (formerly part of southern Netherlands) on February 19, 1526. Although he came from a noble family, they couldn't afford to raise him as an aristocrat. He attended the Universities of Louvain, Wittenberg and Montpellier, became fluent in multiple languages, and traveled throughout Europe. At that time, botany had yet to be invented; the only systematic analysis of flowers and their properties focused on medical value. Clusius was in the habit of exchanging his discoveries with other plant enthusiasts, and slowly he began to share his tulips with friends in Germany, Austria, Hungary, and beyond. The Princess de Chimay, who may well have had romantic designs on the scholar, was a regular recipient of his generosity. She once described him as "the father of every beautiful garden (in this land)."
A Scholar of Plants
Clusius most likely saw his first tulip between 1564 and 1570 in Joris Rye's garden in Mechelen, Flanders. Rye was a businessman with a deep interest in horticulture. Though Clusius was intrigued by the tulip's aesthetic charms, he also explored its possible medicinal use and even preserved some of its bulbs in sugar to eat for pleasure. He declared the candied tulips somewhat less tasty than orchid roots.
In 1573 Emperor Maximilian invited Clusius to establish a botanic garden in Vienna. This location was near the frontier of the Holy Roman Empire, only fifty miles from the Ottoman border. The emperor's death three years later brought the project to a halt, leaving Clusius and his plants stranded in a small, private garden. He struggled in Vienna for the next 16 years, eking out a living and fighting off plant thieves, all while developing, classifying and sharing new tulip hybrids.
With time, the old scholar would create an extensive catalog of the tulip in all its known variations, organized into 34 separate groups by color, shape and bloom time. His tulip research forms the foundation for how we identify tulips even today. "Tulipa clusiana" takes its name from the scholar. 
Clusius was also the first person to study the symptoms of what we now call Tulip Breaking Virus, a disease that caused single color tulips to erupt in the ruffles, flames, feathers and streaks of multiple colors that drove the Dutch wild during Tulipmania.
In 1592, thanks to his old friend the Princess De Chimay, Clusius got a new post. Leiden University, a new, well-funded institution in the Dutch Republic asked Clusius to create a botanic garden for the academic study of plants. Although that garden, which still exists, was focused on medicinal plants, the University also provided Clusius with a garden of his own where he could plant his legendary tulip collection.
Though Clusius cherished broken tulips, he recognized that "… any tulip thus changing its original color is usually ruined afterwards and so wanted only to delight its master's eyes with this variety of colors before dying, as if to bid him a last farewell." He understood that the weakness and beauty of broken tulips nearly always heralded a flower's demise.